What is Coronavirus (COVID-19)
COVID-19 also known as Coronavirus Disease is a type of SARS (Severe Acute Respiratory Syndrome) that attacks Respiratory system especially Lungs. It is highly contagious that spreads like wildfire in the community. This is why the WHO have declared it as Pandemic. The incubation period (Duration before symptoms appear) vary from 2 to 14 days. During that time, infected person behaves as a carrier infecting other. Infected person wont even know that he has Coronavirus in the body until after symptoms appear which may take up to 2 weeks. This is the reason, why government declared National Emergency and ordered City lock-down and curfews. Social distancing is necessary tool. Self isolation from other people to reduce chance of getting infected. This will give scientist more time for research and find cure or vaccine. Stay tuned to latest outbreak update.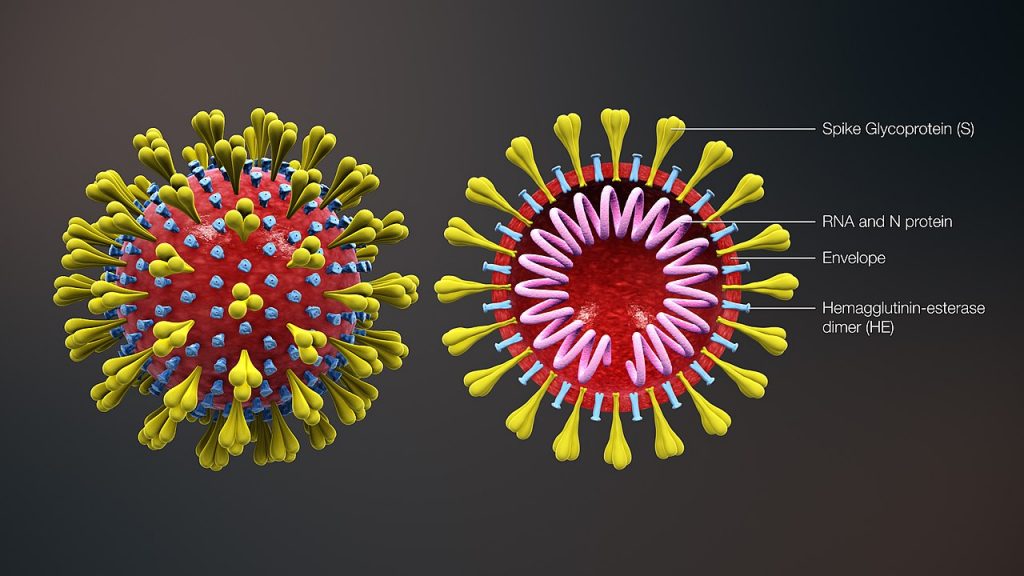 As it is a Virus, there are no treatment for it. Doctors can give supplementary treatment to ease up symptoms, but recovery depends solely on body's own immunity. This is the reason why people with weak immune system such as elderly or people with health conditions are at higher risk of losing against Coronavirus. Coronavirus is lipid bound single-strand RNA virus. It attacks lungs epithelial cells. Dead cells create debris which create a thick lining preventing Oxygen absorption and regular functioning of the lungs. Immune cells fight back but they are confused into fighting all cells even body's own cells which adds to the mess. Looking at this opportunity, Bacteria and other pathogens try to go wild creating a septic shock. Even though fatality is only 2%, 98% patients recover over time, its not an easy ordeal.
Types of Infection
There are Mild, Moderate, Severe and Critical conditions. Even Mild infection is brutal with the bad flu you once had but will survive. Moderate takes longer recovery time and strong medications. Severe needs ventilators and hospitalization whereas Critical needs ICU with high chances of fatality. Therefore it is important to note the difference between coronavirus vs flu.
How Coronavirus Spreads
Coronavirus normally spreads through air from infected person. Like Cough and sneeze in close vicinity. The virus enters through eyes, nose, ears or throat as they all are interconnected by sinuses. This is why advisory have been declared to wear masks, buds and eyeglasses. Also wash hands with soap or alcohol to destroy the virus membrane thus making it incapacitated to infect. Community Prevention is the only solution.
Coronavirus vs SARS
The Coronavirus have many different strains and was found before. It is related to SARS that was also emerged from China and MERS that came from Middle east. But current strain Novel Corona Virus 19, has emerged from Exotic slaughterhouse market (wet market) in Wuhan province of China in December of 2019. Apparently, the market sells variety of animals for meat such as Bats, Marsupials, Bears, Tigers and other endangered species. The coronavirus that is found in bats jumped and crossed species to marsupials before entering the human. This resulted in such mutations that made the virus highly contagious and severe. It is the sin of human cruelty and gluttony that such contagious virus has emerged. There are currently 5 strains found of Coronavirus.
Brief History
COVID-19 slowly spread in China before striking Korea and Japan. Subsequently it reached Iran and Italy from where it spread throughout the Europe. Italy was hit the hardest due to older population with heavy smoking habits and poor health infrastructure. While many countries took the whole pandemic lightly, it slowly spread around the globe infesting most countries. USA was slow to take measures and now facing the consequences with rising new number of COVID Positive patients. Another reason for more cases coming out is the availability of testing kits. Testing kit was not available before and recently distributed. But they are still not enough to test such a huge population. As the test for coronavirus increase, so does the number of cases increases.
For more information please follow your local CDC guidelines "https://www.cdc.gov/coronavirus/2019-ncov/index.html"